Adult Training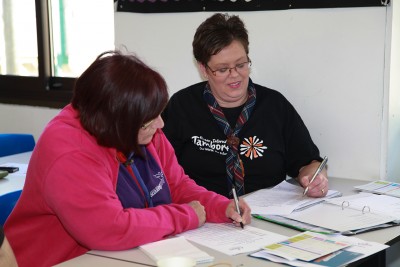 Adult volunteers are at the heart of Scouting, and we hope that you will get every bit as much out of it as you put in. Scouting is not only about young people, but also about the development of adults within the Movement.
Training opportunities until face-to-face training resumes
To support adults in Scouting, the Association provides a comprehensive programme of training to build on existing skills and knowledge and develop new competencies.
Some elements of training can count towards externally-recognised qualifications, and within the movement there are also awards to recognise dedication to training and outstanding service.
All training within Thurrock is provided free of charge and tailored to your role, past experiences and knowledge.
Introduction to the Adult Training Scheme
All training courses must be booked through the County Training Booking System: bookwhen.com/essex-scouts-adult-training
There are various resources available on The Scout Association's website including workbooks, e-learning and more.
Learning Needs Summaries and Personal Learning Plans designed for various roles are available here.(Currently being updated)
There are also resources dedicated to Safeguarding, Safety and GDPR training.
New Leadership and Management Training for Managers and Supporters
As part of the new training for Managers and Supporters in Scouting, a range of resources have been launched.
The new videos, workbooks and short pieces of e-learning provide Managers and Supporters with practical tips on dealing with difficult situations, building effective teams, managing change, development planning as well as recruitment of adult volunteers.
The new resources can be used to provide independent learning for new Members, as well as ongoing learning for existing Managers and Supporters.
For more information on Training contact:
Gill Cobley
Local Training Manager
training@nullthurrockscouts.org.uk
Training Calendar
January 2024
Wed 10th
Module 8 Training (Part 1)
Event Time: 19:30 - 21:30
Location: Online
Mon 15th
Module 7 Training
Event Time: 19:30 - 21:30
Location: Online
Wed 17th
Module 8 Training (Part 2)
Event Time: 19:30 - 21:00
Location: Online
Mon 22nd
Module 12A Training
Event Time: 19:30 - 22:00
Location: Online
Sun 28th
First Response Course
Event Time: 10:00 - 16:00
Location: 1st Grays HQ, Cromwell Road, Grays, RM17 5HT
February 2024
Mon 5th
Module 19 Training
Event Time: 19:30 - 22:00
Location: Online
Sat 10th
Module 9 Training
Event Time: 09:30 - 12:30
Location: Online
Sun 11th
First Response Course
Event Time: 09:30 - 16:30
Location: Thors Oak HQ, Thors Oak, Stanford-le-Hope, SS17 7DB
Mon 12th
Module 14 Training
Event Time: 19:15 - 22:00
Location: Online
Wed 14th
Module 12B Training
Event Time: 19:30 - 22:00
Location: Online
Tue 20th
First Response Course Part 1
Event Time: 19:00 - 22:00
Location: 1st Grays HQ, Cromwell Road, Grays, RM17 5HT
Wed 21st
First Response Course Part 2
Event Time: 19:00 - 22:00
Location: 1st Grays HQ, Cromwell Road, Grays, RM17 5HT
Sun 25th
First Response Course
Event Time: 10:00 - 16:00
Location: 1st Grays HQ, Cromwell Road, Grays, RM17 5HT
Wed 28th
Module 17 Training
Event Time: 19:30 - 21:30
Location: Online
March 2024
Mon 4th
Module 15 Training
Event Time: 19:15 - 22:00
Location: Online
Tue 5th
Module 7 Training
Event Time: 19:30 - 21:30
Location: Online
Wed 6th
Module 16 Training
Event Time: 19:15 - 21:30
Location: Online
Mon 11th
Module 5 Training
Event Time: 19:30 - 21:30
Location: Online
Sat 23rd
Module 13 Training
Event Time: 09:15 - 13:00
Location: Online
Sun 24th
First Response Course
Event Time: 10:00 - 16:00
Location: 1st Grays HQ, Cromwell Road, Grays, RM17 5HT
April 2024
Fri 19th - Sun 21st
Skills for Residential Experiences Weekend
Event Time: 19:30 - 16:00
Location: Thriftwood, Orchard Avenue, Brentwood, CM13 2DP
Sun 28th
First Response Course
Event Time: 10:00 - 16:00
Location: 1st Grays HQ, Cromwell Road, Grays, RM17 5HT