Volunteering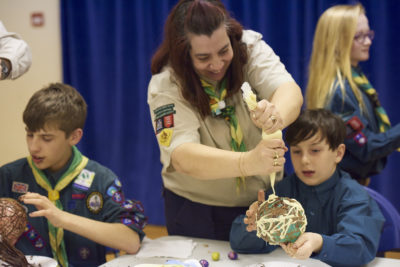 Scouting provides fun and adventure to nearly half a million young people across the UK. This huge achievement is only possible due to the thousands of volunteers who dedicate their time to provide these opportunities.
It doesn't matter how much or how little time you can spare there are lots of suitable roles available, either actively working with the young people or providing support to those who have a more active role.
Whichever role you take on, you will be properly supported and trained to ensure the experience is enjoyable as well as rewarding. The Scout Association's modular training scheme allows training to be tailored to suit your role, skills, knowledge and previous experiences.
Volunteering with Scouting will offer you the chance to build on personal skills like leadership, confidence and teamwork, learn new practical skills, meet loads of interesting people, and most importantly have lots of fun! It also a great addition to your CV.
If a more formal role is not for you, why not join one of our Scout Active Support units.
If you are interested in volunteering with Scouting in Thurrock, please contact us for more information.
Current Vacancies
If you are interested in one of these roles, please use the contact link above.